Home
IWPA Championships
2012 Championships
2013 Championships

2013 IWPA International Championships
North 49 International IWPA Championships
Location:
Brass Pro Shop at the Cross Iron Mills Mall

112-261055 Cross Iron Blvd, Rockyview

Balzac, AB Canada

Date:
May 4th Snow Championship Event on natural snow

May 5th Wheeled Championship Event on carpet
FROM THE CHAMPIONSHIP ORGANIZER
Sean Hammell

Hello IWPA members!

Congrats to all of those who qualified for championships, it is quite the accomplishment, and something to be proud of! We would love to see you in Calgary, Alberta for the weekend of May 3rd - 5th at our "North 49th Challenge" Championships event!

We are very excited to be planning this years Championships and we are just putting the final touches on all the details. We truly hope to show you some true Western Hospitality, and have a great championships weekend.

If you are planning on coming, there is a couple things you should do:

If you are going to come to the awards banquet on Friday May 3rd at 8:00pm, please RSVP to me by email at seanhammell@hotmail.com BEFORE April 19th - letting me know what meal option you wish to choose, and I can send you a request for payment via Paypal
If you are coming (or even if you are not), and would like your dog mentioned in the program, please send me a picture and/or a short bio of your dog BEFORE April 27th
If you need anything else while you are here (dog letout services, food providers, things to do, etc) .. please don't hesitate to contact me


Looking forward to seeing everybody in just a few short weeks!

Sean Hammell
Western Canada Weight Pull Club
If you want your dog(s) listed in the Championship Program submit the bio to Sean Hammell by April 27th!
EXTREMELY IMPORTANT INFORMATION ABOUT PET FOOD/TREATS!!!

Here are a couple of websites that everyone is encouraged to visit before entering Canada in regard to entry of dog food and treats. Be sure to visit these web sites and KNOW WHAT WILL AND WILL NOT BE ALLOWED ENTRY INTO CANADA. The web sites are;
http://www.inspection.gc.ca/english/anima/imp/petani/petanie.shtml
http://www.inspection.gc.ca/english/anima/petfaani/petfaanie.shtml

16. Pet food - traveler's exemption
The provisions of subsections 6.5(1) and (2) of the Health of Animals Regulations apply to persons entering Canada and wishing to import pet food for personal use:
6.5(1) Except in accordance with a permit issued under section 160, no person shall feed to any animal material in any form - whether or not incorporated into another thing - that is derived from specified risk material.
(2) Subsection(1) does not apply to a person who feeds a pet food, pet chew or pet treat to an animal if:
a. the country of origin of that product is the U.S.;
b. the person on entry into Canada from the U.S., was in possession of the product and was accompanied by the animal to which it is fed;
c. the person legally imported both the product and the animal into Canada; and
d. the product is fed only to the animal that accompanied the person into Canada.
In addition to the provisions stipulated in the Regulations, the pet food must be commercially prepared processed pet food, either wet or dry. It must be in its original unopened bag or can, and the label must clearly indicate the list of ingredients. A maximum of 20 kg (44 lbs) per entry is allowed.



Any questions you can contact Canada Border Services Agency - 1-800-442-2342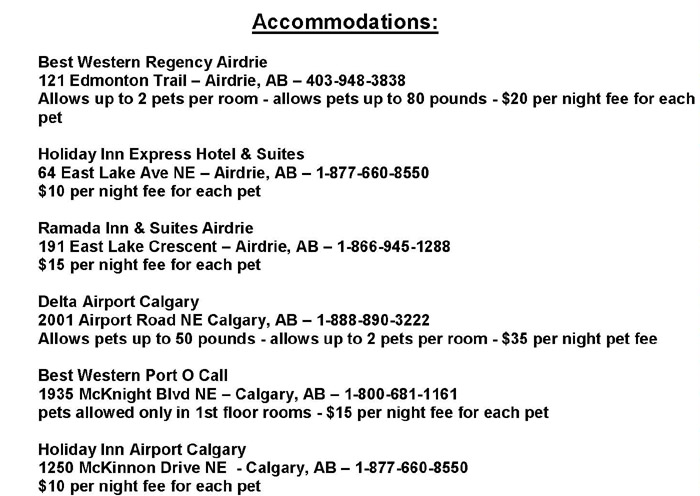 Other Helpful Links:

Cross Iron Mills Mall: http://www.crossironmills.com/visitor-information/

Tourism Calgary: http://www.myvirtualpaper.com/doc/tourism_calgary_visitors_guide/calgary-visitor-guide-2012/2012040301/#0

Underdogs Rescue: http://www.underdogsrescue.com/about-us/

Western Canada Weight Pull Club: http://www.weightpulling.webs.com/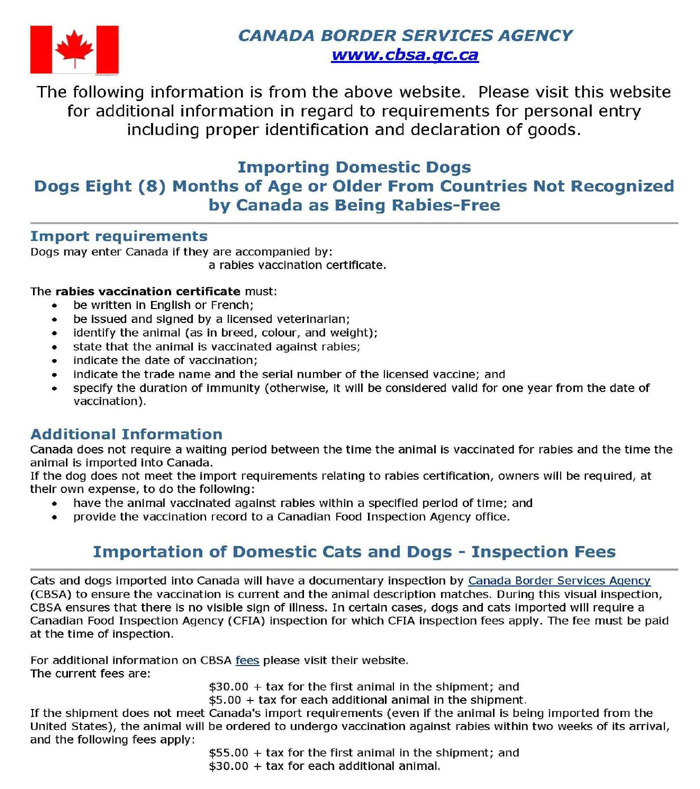 Begin planning your trip to attend the 2012-2013 IWPA International Championships!

Plan early because if you live in the United States you will need to have time to obtain some form of U.S. Citizenship either by Passport, Nexus Card or Enhanced Driver's License available in some bordering states.

You should also plan to have health and vaccination records for any dogs you will take.

See you in Canada eh!!!
Address further questions about IWPA to: Sean Hammell
or Membership questions to: Rodney Martin
or Web site questions/comments to Sheryl Franklin
Home |
About Us |
Getting Started |
Overview of a Pull |
Upcoming Events |
Pull Results |
Judges List |
Rules |
Points |
IWPA Championships |
Forms |
Members Corner |
Contact Us |
Photo Gallery |
Hall of Fame |
Links |
Classifieds |
International Weight Pull Association
iwpa.net
© 1999-2012